If you've interacted with Inspired Results before, you've likely heard our bold statement: we're leading the brand management revolution. What do we mean by this? Mainly, this revolution involves blazing new trails for our industry by creating innovative, inspiring solutions for our clients. But we also aim to challenge the status quo in other ways—and the industry is taking notice.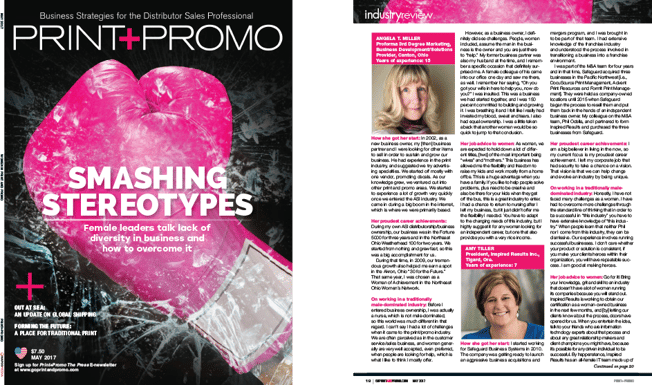 Print+Promo Magazine, a leading source for innovators in the printing and promotional product industries, recently featured our own Inspired Results co-founder Amy Tiller in its cover article. The piece, Women in Print and Promo: These Women Mean Business features prominent female leaders who "are creating dynamic marketing campaigns, generating sales dollars, and leading multi-million dollar companies."
The article suggests that even more importantly than these endeavors, the featured leaders are:
"...guiding the new generation of women who may tackle gender inequalities as they enter the workforce."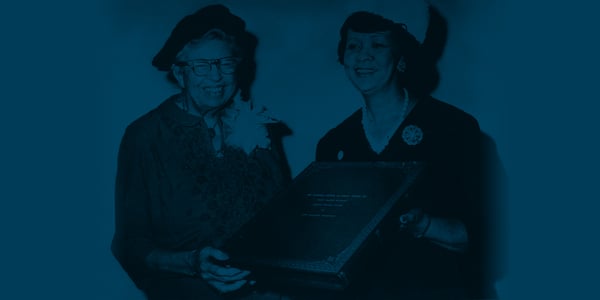 Read highlights from the article, and learn more about Amy's innovative approach with Inspired Results!
Taking a leap
With several years of industry experience, Amy and her business partner Phil Odella partnered to form Inspired Results in 2015. With expertise in mergers and acquisitions and franchises, Amy notes that she did not originally set out to own a company in the print and promo industry—but was inspired to be a part of the rapidly changing field.
"An opportunity presented itself to do something new and different," Says Amy. "Through my work in mergers and acquisitions, I recognized that the print and promo industry was changing. Phil and I thought it was a great time to get into this industry and be a part of that change."
This desire to be part of greater shift in the landscape invigorates Amy to this day. She considers taking this leap as one of her proudest accomplishments.
"I am a big believer of living in the now, so my current focus in Inspired Results is my proudest career achievement. I left my corporate job that had security to take a chance on vision. That vision is that we can help change and evolve the industry by being unique."
Overcoming obstacles
Because Amy did not follow a traditional path to enter the print and promo industry, she notes how she faced hurdles others necessarily did not.
"I have had to overcome more challenges through the standard line of thinking that in order to be successful in 'this industry,' you have to have extensive knowledge of 'this industry.' Our experience involves running successful businesses. If you make your clients heroes within their organization, you will have repeatable success. I am good at making heroes."
Amy continues this trend in embracing challenges when it comes to the day-to-day work at Inspired Results. When talking about what she loves most about the industry, she notes that the diversity of projects delights her.
"The diversity of solutions we are able to provide our clients is exciting. Every need is different, so every solution is different. I love that every day consistently challenges us," she says.
Though while projects and solutions may differ, she knows that her efforts ultimately lead to one important vision: growth.
"My primary daily focus is to grow Inspired Results. As the leader of sales and marketing, that does mean I'm responsible for a variety of different activities, but each one ultimately benefits that one goal. I am held accountable by Phil and the other leadership team members at Inspired Results to provide results; and if I'm not, I get called out for losing focus."
[full-image image="http://inspirenw.com/wp-content/uploads/2017/05/amy-phil-smirk-bw.jpg"]
Words of encouragement
Amy notes her appreciation for her varied network of support: her former colleagues, her parents, her business partner, and her wife, whose "guidance and support have always been a true north in good times and bad."
Paying the support forward, she gives this career advice to women:
"Go for it! Bring your knowledge, grit and skill to an industry that doesn't have a lot of women running its companies because you will stand out… it's possible for any driven individual to be successful."
Thank you to Print+Promo for featuring Amy and Inspired Results! Click here to read the full article and to learn more about Amy's journey.